Giraffe Weevil; Insect; Madagascar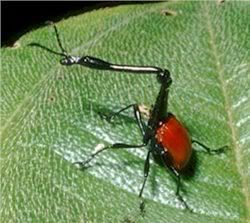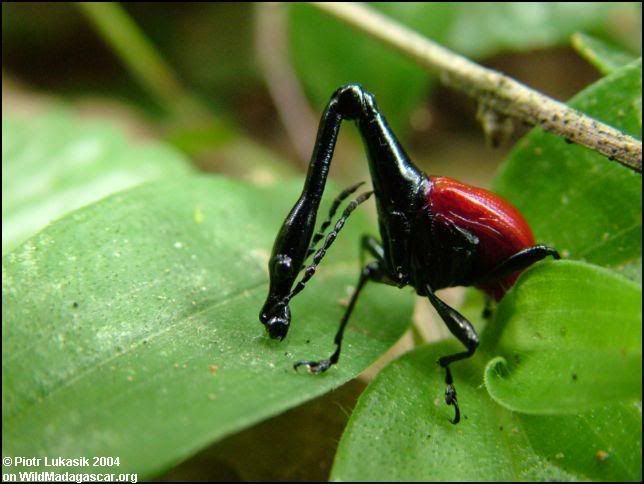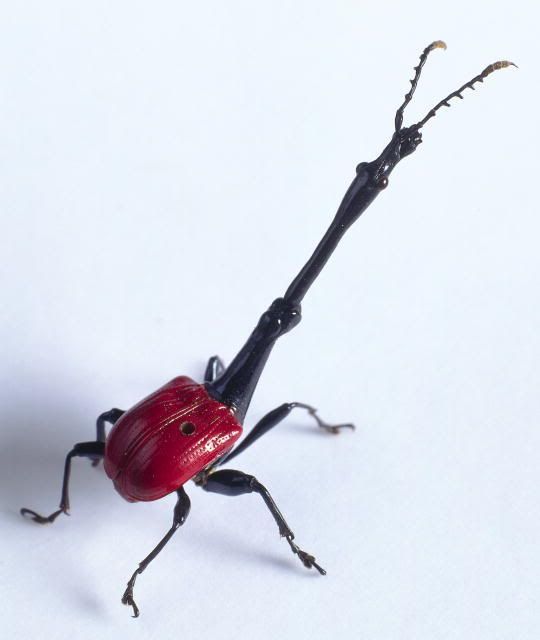 Name:
Giraffe Weevil
Scientific Name:
Trachelophorus giraffa
Classification:
Phylum: Arthropoda, Class: Insecta, Order: Coleoptera, Superfamily: Curculionoidea, Family: Attelabidae, Genus: Trachelophorus.
Size:
The total body length of the males is just under an inch (2.5 cm), among the longest for any Attelabid species.
Lifespan:
Variable, from days to a year.
Habitat:
The forest undergrowth of Madagascar.
Food:
Herbivorous.
Adaptations/Unique Facts:
Indemic to Madagascar, it derives its name from an extended neck much like that of the common giraffe. The extended neck is an adaptation that assists in nest building.
Reproduction:
When it comes time to breed the father-to-be will roll and secure a leaf of the host plant,
Dichaetanthera cordifolia
(a small tree in the family Melastomataceae), at which point the female will lay a single egg within the tube.
Endangered Status?:
Unknown.
Other:
Another beetle with a similar name is the New Zealand giraffe weevil,
Lasiorynchus barbicornis
. This is the longest weevil in the world, and is from the family Brentidae. Due to the shape of their heads, weevils are commonly known as snout beetles.
[
Wikipedia Article
]