October 1st, 2008
September 28th, 2008
September 22nd, 2008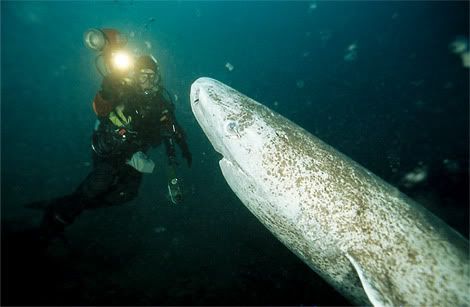 (
More pictures behind cut.
Collapse
)
Name:
Greenland Shark / Sleeper Shark / Gurry Shark / Grey Shark
Scientific Name:
Somniosus microcephalus
Classification:
Phylum: Chordata, Class: Chondrichthyes, Subclass: Elasmobranchii, Order: Squaliformes, Family: Dalatiidae, Genus: Somniosus.
Size:
The size of the Greenland shark is impressive: its largest recorded specimens are comparable in size to the great white shark.
Lifespan:
Biologists know little of the shark's reproduction and life cycle, aside from ovoviviparity; its lifespan may be as long as 200 years.
Habitat:
Native to the waters of the North Atlantic Ocean around Greenland and Iceland. These sharks live further north than any other shark species. Greenland sharks are deep-water sharks, living at depths up to 2,000 m (6,600 ft).
Food:
Though famously sluggish when hunted (they can be dragged out of the water with one's bare hands), they feed on agile prey such as fish, and on mammals like seals. The stomachs of a few Greenland sharks have even been found to contain pieces from reindeer, horses, and even parts of a polar bear. An entire reindeer, minus its antlers, was found in the stomach contents of one Greenland shark.
Adaptations/Unique Facts:
This shark frequently has a relationship with a parasitic copepod,
Ommatokoita elongata
, that attaches itself to the cornea of the eye and feeds on the shark's corneal tissue; the resulting scar tissue leads to partial blindness of the shark. The flesh of a Greenland shark is poisonous when fresh. This is due to the presence of the toxin trimethylamine oxide, which, upon digestion, breaks down into trimethylamine, producing effects similar to extreme drunkenness. Occasionally, sled dogs that end up eating the flesh are unable to stand up due to the neurotoxins. However, it can be eaten if it is boiled in several changes of water or dried or rotted for some months (as by being buried in boreal ground, exposing it to several cycles of freezing and thawing). It is considered a delicacy in Iceland and Greenland.
Reproduction:
See lifespan.
Endangered Status?:
Near Threatened.
Other:
Greenland sharks are even cannibalistic, eating each other, because they are immune to each other's toxic flesh. In an Inuit legend, an old woman washed her hair with urine, and then dried her hair with a gray cloth. The cloth blew away and became the first Greenland shark. These sharks are not dangerous to humans.
(
Video footage.
Collapse
)
[
Wikipedia Article
]
September 1st, 2008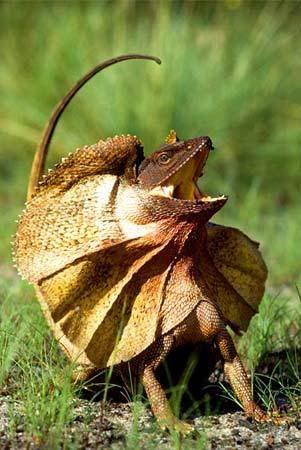 (
More pictures behind cut.
Collapse
)
Name:
Frill-necked Lizard / Frilled Dragon
Scientific Name:
Chlamydosaurus kingii
Classification:
Phylum: Chordata, Class: Sauropsida, Order: Squamata, Suborder: Iguania, Family: Agamidae, Subfamily: Agaminae, Genus: Chlamydosaurus.
Size:
May grow up to one metre in total length. Males are significantly larger than females both as juveniles and when mature.
Lifespan:
Up to 15 years.
Habitat:
The lizard is found in southern New Guinea, as well as in the Kimberley region of Western Australia and across northern Australia. It primarily inhabits savanna woodlands, but may also be found in tropical to warm temperate forests, and where there is an open scrub or tussock grass understorey.
Food:
It is semi-arboreal, and hunts in the trees for small arthropods (including caterpillars and cicadas), and on the ground for ants and termites, spiders, or small vertebrates (e.g. other lizards). The lizards are less active during the dry season (April-August).
Adaptations/Unique Facts:
The frill of the Australian frilled dragon is used to scare off potential predators — as well as hissing and lunging. If this fails to ward off the threat, the lizard flees bipedally to a nearby tree where it climbs to the top and relies on camouflage to keep it hidden. In Australia, the frill-necked lizard is also known as the "bicycle lizard" because of this behaviour.
Reproduction:
Frill-necked lizards breed in the early wet season from September to October. Adult males fight for mates, displaying their frills and biting each other. One to two clutches of 8-23 eggs are laid from early to mid-wet season from November to February. The eggs are laid in a nest 5-20 cm below ground, and usually in sunny areas. Incubation takes two to three months. Sex is partly temperature determined, with extreme temperatures producing exclusively females, and intermediate temperatures (29-35C) producing equal numbers of males and females. Their eggs are soft-shelled.
Endangered Status?:
Not endangered.
Other:
A frill-necked lizard featured on the reverse of the Australian 2 cent coin, until 1991. The 2 cent coin was withdrawn from circulation in 1992 — following which the 2 cent coins and 1 cent coins were melted down to make bronze medals for the 2000 Summer Olympics in Sydney. A frill-necked lizard, named "Lizzie" was the mascot for the 2000 Paralympic Games.
(
Video footage.
Collapse
)
[
Wikipedia Article
]
June 6th, 2008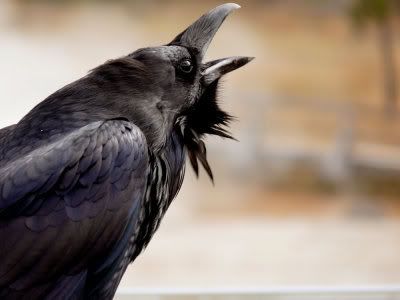 (
More pictures behind cut.
Collapse
)
Name:
Common Raven
Scientific Name:
Corvus corax
Classification:
Phylum: Chordata, Class: Aves, Order: Passeriformes, Family: Corvidae, Genus: Corvus.
Size:
Between 56 and 69 cm (22 to 27 inches) in length, with recorded weights ranging from 0.69 to 1.63 kg (1.5 to 3.6 pounds).
Lifespan:
Typically live about 10 to 15 years in the wild, although lifespans of up to 40 years have been recorded.
Habitat:
Common Ravens can thrive in varied climates; indeed this species has the largest range of any member of the genus. They range throughout the Holarctic from Arctic and temperate habitats in North America and Eurasia to the deserts of North Africa, and to islands in the Pacific Ocean. In the British Isles, they are more common in Scotland, northern England and the west of Ireland. In Tibet, they have been recorded at altitudes up to 5,000 m (16,400 ft), and as high as 6,350 m (20,600 ft) on Mount Everest.
Food:
Common Ravens are extremely versatile and opportunistic in finding sources of nutrition, feeding on carrion, insects and food waste, in addition to cereal grains, berries, fruit and small animals.
Adaptations/Unique Facts:
Fifteen to 30 categories of vocalization have been recorded for this species, most of which are used for social interaction. Calls recorded include alarm calls, chase calls, and flight calls. Non-vocal sounds produced by the Common Raven include wing whistles and bill snapping. Clapping or clicking has been observed more often in females than in males. If a member of a pair is lost, its mate reproduces the calls of its lost partner to encourage its return.
Reproduction:
Young birds may travel in flocks, but later mate for life, with each mated pair defending a territory.
Endangered Status?:
None.
Other:
Some remarkable feats of problem-solving have been observed in the species, leading to the belief that it is highly intelligent. Common Ravens have among the largest brains of any bird species. Over the centuries, it has been the subject of mythology, folklore, art and literature. In many indigenous cultures, including those of Scandinavia, ancient Ireland and Wales, Bhutan, the northwest coast of North America, Siberia and northeast Asia, the Common Raven has been revered as a spiritual figure or god. They are Bhutan's national bird.
(
Video footage.
Collapse
)
[
Wikipedia Article
]
June 4th, 2008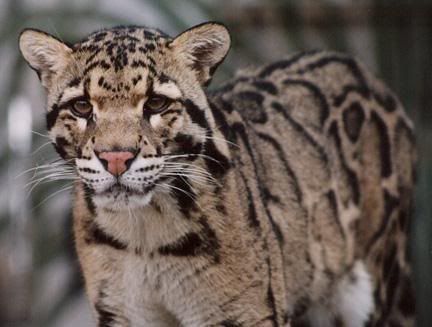 (
More pictures behind cut.
Collapse
)
Name:
Clouded Leopard
Scientific Name:
Neofelis nebulosa
Classification:
Phylum: Chordata, Class: Mammalia, Order: Carnivora, Family: Felidae, Subfamily: Pantherinae, Genus: Neofelis.
Size:
55 to 110 cm (2 ft to 3 ft 6 in) long and weighing between 15 and 23 kg (33 to 50 lb). The Clouded Leopard has a large build and, proportionately, the longest canine teeth (2 in) of any living feline.
Lifespan:
While little is known about their lifespan in the wild, clouded leopards have been known to live up to 17 years in captivity.
Habitat:
Found in southern China, the eastern Himalayas, north-east India and mainland Southeast Asia.
Food:
Like all cats, the clouded leopard is a carnivore. Its prey includes the sambar and muntjac deer, birds, bearded pigs, civet, monkeys, gibbons, squirrels, porcupines, fish, domestic cattle and chicken. Clouded Leopards that are held in captivity also eat eggs and some vegetation.
Adaptations/Unique Facts:
In conjunction with the fact that some of its prey lives in trees, the Clouded Leopard is an excellent climber. Short, flexible legs, large paws, and keen claws combine to make it very sure-footed. The Clouded Leopard can possess a tail as long as its body, further aiding in balance. Surprisingly, the cat can climb while hanging upside-down under branches and descend tree trunks head-first. In captivity, the Clouded Leopard routinely hangs by its hind legs using its long tail for balance and runs head-first down tree trunks. Little is known about its behaviour in the wild, but it is assumed that it is highly arboreal and that a favoured hunting tactic is to drop on prey from the trees.
Reproduction:
Females give birth to a litter of 1 to 5 cubs after a gestation period of about 85 to 93 days. Initially, the young are blind and helpless, much like the young of many other cats. Unlike adults, the kittens' spots are "solid"—completely dark rather than dark rings. The young can see within about 10 days of birth, are active within 5 weeks, and probably become independent at about 10 months of age.
Endangered Status?:
Vulnerable.
Other:
The scientific name of the genus, Neofelis, originates from neo, which means "new", and felis, which means "small cat", so it literally means new kind of small cat. The Bornean Clouded Leopard,
Neofelis diardi
, is a separate species found on the Sumatra, Borneo and the Batu Islands.
(
Video footage.
Collapse
)
[
Wikipedia Article
]
May 25th, 2008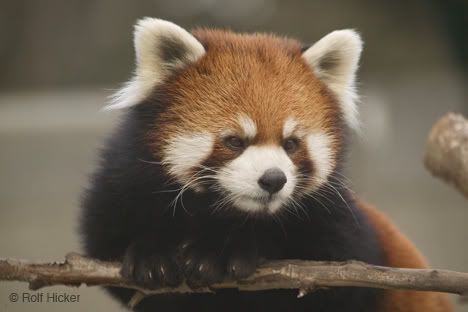 (
More pictures behind cut.
Collapse
)
Name:
Red Panda
Scientific Name:
Ailurus fulgens
("Shining cat")
Classification:
Phylum: Chordata, Class: Mammalia, Subclass: Eutheria, Superorder: Laurasiatheria, Order: Carnivora, Suborder: Caniformia, Superfamily: Musteloidea, Family: Ailuridae, Genus: Ailurus.
Size:
It is slightly larger than a domestic cat (40 - 60 cm long, 3 - 6 kg weight).
Lifespan:
Their average lifespan is 8 - 10 years but can reach a maximum of 15 years.
Habitat:
The Red Panda is endemic to the Himalayas in Bhutan, southern China, India, Laos, Nepal, and Burma.
Food:
The Red Panda eats mostly bamboo. Like the Giant Panda, it cannot digest cellulose, so it must consume a large volume of bamboo to survive. Its diet consists of about two-thirds bamboo, but they also eat berries, fruit, mushrooms, roots, acorns, lichen, grasses, and they are known to supplement their diet with young birds, fish, eggs, small rodents, and insects on occasion.
Adaptations/Unique Facts:
Red Pandas are crepuscular (most active at dawn and dusk) and live in the slopes of the south of the Himalayas and the mountainous forests of the southwest of China, at altitudes of up to 4,800 meters, and generally do not venture below 1,800 meters. They are sedentary during the day resting in the branches of trees and in tree hollows and increase their activity only in the late afternoon and/or early evening hours. They are very heat sensitive with an optimal "well-being" temperature between 17 and 25°C., and cannot tolerate temperatures over 25 °C at all. As a result, Red Pandas sleep during the hot noontime in the shady crowns of treetops, often lying stretched out on forked branches or rolled up in tree caves with their tail covering their face.
Reproduction:
The Red Panda is a solitary animal, usually seeking a partner only for mating from the end of December to the middle of February. After a gestation period of 112 to 158 days the female gives birth to one to four blind cubs weighing 110-130 g. This occurs between the end of May to the beginning of July. A few days before the birth the female begins to collect material, such as brushwood, grass and sheets, to use for the nest. The nest is normally located in a hollow tree or a rock column.
Endangered Status?:
There is an estimated population of less than 2,500 mature individuals. Their population continues to decline due to habitat fragmentation.
Other:
The Red Panda is the state animal in the Indian state of Sikkim. It is also the mascot of the Darjeeling international festivals.
(
Video footage.
Collapse
)
[
Wikipedia Article
]
March 15th, 2008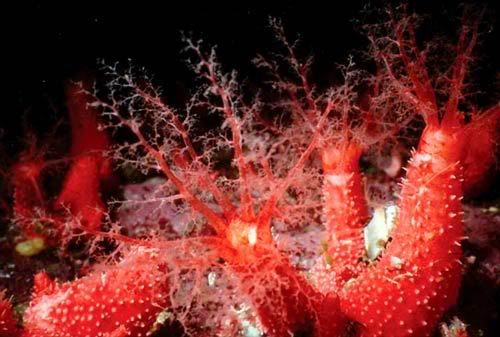 Name:
Strawberry Sea Cucumber
Scientific Name:
Squamocnus brevidentis
Classification:
Phylum: Echinodermata, Subphylum: Echinozoa, Class: Holothuroidea, Subclass: Aspidochirotacea, Genus: Squamocnus.
Size:
Fairly large.
Lifespan:
These nocturnal animals have a lifespan of about 5 - 10 years.
Habitat:
Lives on rocky walls around the southern coast of the South Island of New Zealand, where populations sometimes reach densities of 1,000 animals per square metre. For this reason, one such area in Fiordland is simply called the strawberry fields.
Food:
Sea cucumbers are generally scavengers, feeding on debris in the benthic zone of the ocean.
Adaptations/Unique Facts:
Ten percent of the blood cell pigment of the sea cucumber is vanadium. Just as the horseshoe crab has blue blood rather than red blood (colored by iron in hemoglobin) because of copper in the hemocyanin pigment, the blood of the sea cucumber is yellow because of the vanadium in the vanabin pigment. Nonetheless, there is no evidence that vanabins carry oxygen, in contrast to hemoglobin and hemocyanin.
Reproduction:
Sea cucumbers reproduce by releasing sperm and ova into the ocean water. Depending on conditions, one organism can produce thousands of gametes.
Endangered Status?:
None.
Other:
Sea cucumbers extract oxygen from water in a pair of 'respiratory trees' that branch off the cloaca just inside the anus, so that they 'breathe' by drawing water in through the anus and then expelling it.
[
Wikipedia Article
]
NOTICE:
I will be gone tomorrow (March 16th) to thursday (March 20th), as I'll be on a trip to San Francisco. If anyone wants to take over for me during that time -- again, apologizing for my absenses this past month -- drop a line here before I leave, so that I can give you Mod/posting powers. I'll be leaving around 12:00PM tomorrow.
March 14th, 2008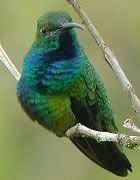 (
More pictures behind cut.
Collapse
)
Name:
Green-Breasted Mango
Scientific Name:
Anthracothorax prevostii
Classification:
Phylum: Chordata, Class: Aves, (unranked) Cypselomorphae, Order: Apodiformes, Family: Trochilidae, Subfamily: Trochilinae, Genus: Anthracothorax.
Size:
Adults of this medium-sized hummingbird species are 11-12 cm in length. Males average 7.2 g, females , 6.8 g.
Lifespan:
Most hummingbirds unfortunately die during their fist year, but those that do survive that first year have an average lifespan of 3 to 4 years.
Habitat:
This species breeds from eastern and southern Mexico south through Central America, including some near-shore islands, to Costa Rica. In western and central Panama, it is replaced by the possibly conspecific Veraguas Mango
Anthracothorax veraguensis.
The species inhabits tropical deciduous forest, open landscapes with scattered large trees, orchards, gardens, and cultivated areas, but its distribution is spotty and often localized.
Food:
Like all hummingbirds, it feeds on insects and other invertebrates and nectar. Prey is often taken in mid-air but may also be gleaned from vegetation or stolen from spider webs (a behavior known as kleptoparasitism). Favorite nectar sources include the flowers of large trees such as Inga, Erythrina, and Ceiba or kapok.
Adaptations/Unique Facts:
This species is very similar to the closely related Black-throated Mango. Although the male Green-breasted Mango has less extensive black on the underparts, this and other plumage differences are not always easy to confirm in the field because the birds appear all-black. The females of the two species can be almost inseparable, although Green-breasted has more extensively coppery upperpart tones than its relative. The call of the Green-breasted Mango is a high-pitched
tsup
, and the song is a buzzing
kazick-kazee-kazick-kazee-kazick-kazee-kazick-kazee.
Reproduction:
As far as is known, male hummingbirds do not take part in nesting. Most species make a cup-shaped nest on the branch of a tree or shrub. Two white eggs are laid, which despite being the smallest of all bird eggs, are in fact large relative to the hummingbird's adult size. Incubation is typically 12–19 days. The nest varies in size relative to species, from smaller than half of a walnut shell to several centimeters in diameter.
Endangered Status?:
The Green-breasted Mango has been evaluated by the World Conservation Union, a.k.a. International Union for the Conservation of Nature and Natural Resources (IUCN) and categorized as a species of Least Concern.
Other:
The scientific name of this bird commemorates the French naturalist Florent Prévost.
[
Wikipedia Article
]